CULT CRITIC
---
John Wick: Chapter 4
FILM OF THE MONTH
---
CAT INDEX OVERVIEW
---
SCREENPLAY
MAKING
ACTING
John Wick: Chapter 4 | Reviewed By Gaurav Dutta
You anticipate that a John Wick movie will feature world-class fight choreography and stunt work. Chad Stahelski, the director, was a kickboxer before becoming a director. In the Matrix, he worked as Keanu Reeves' stunt double. The main reason to watch these enjoyable pulpy slaughter fests is the extravagantly showy stunt work. This is certainly more so than the plot, which repeats the basic structure of previous films by having Wick (Keanu Reeves) slice his way through the numerous henchmen of his former employers, the High Table. But even compared to Wick's previous outings, this is remarkable.
The bodies of people are thrown into moving vehicles, the entire length of the Sacré-Coeur stairs is plunged down by two double falls by Reeves. And just to show that Stahelski is a master of action, he gives us a long, mind-bogglingly complicated fight scene with the camera floating overhead in what looks like one shot. Like the final "Love You" before the start of the next era, Chapter 4 is here. While it is very nearly three hours in length, the story is fresh and just spread out on a case by case basis. The writing takes its own time to establish the High Table's world and how they are currently directly behind Wick. Every sequence is well thought out and structured in a way that brings Johnathan's events to a close. Betrayal in the name of close friends, his life as Baba Yaga, which he wants to end, and the fact that no one can kill him with his suit on are all factors. However, he is vulnerable in multiple ways as the blazer is taken off, and this is not just a physical layer going off.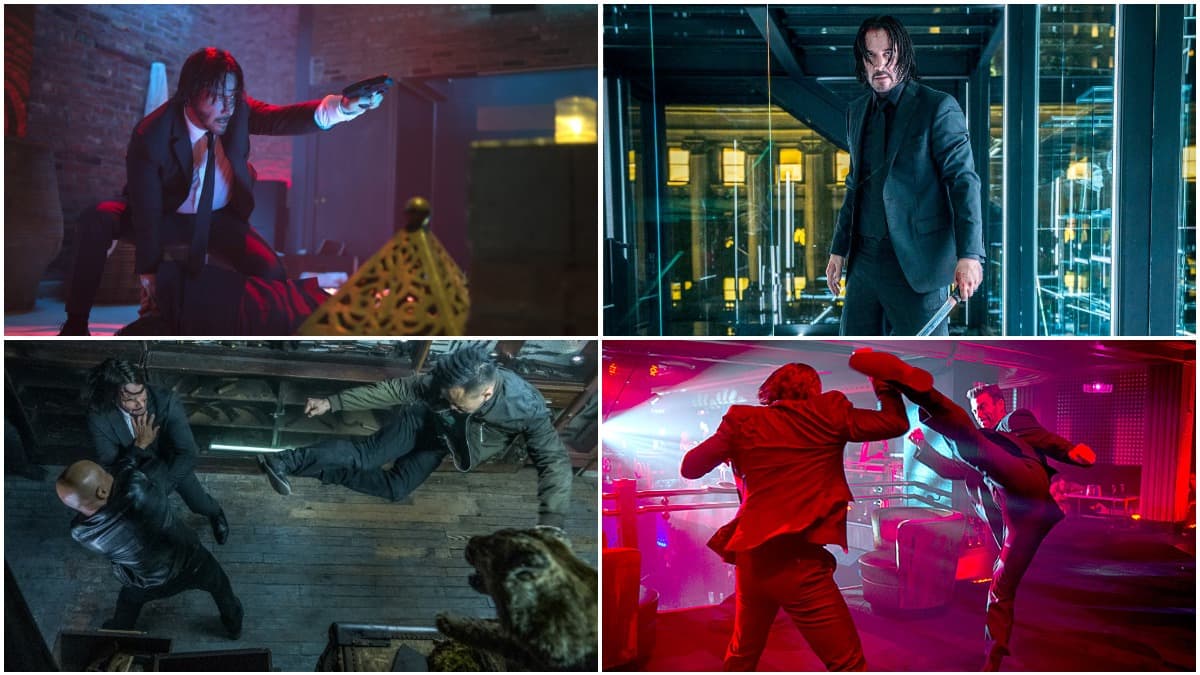 John Wick and Keanu Reeves are now synonymous, and there will be no turning back. Every punch has a personal touch, and every feeling is genuine. Reeves ensures that you feel it in his performance when a character refers to him as "a ghost in the search of a graveyard" at a crucial moment. Indeed, even with the world against him, he never stops and surveys the dangers of his developments since they don't make any difference to him, and there is nobody around him who might be stressed because of how badass he is, Donnie Yen is a gift to this franchise and deserves a raise. You would want everyone on this roaster to be blind and fight each other because the actor makes it so easy to play a blind assassin and kill men quickly. He has times when he finds his way back to goodness, and he does it well.
Chad Stahelski due of how well he stages and choreographs the numerous action sequences, ought to win all the awards. You are not allowed to look away from the screen for even a second during these two 30-minute videos. The real skill is in Chad's ability to give each character around Keanu time to shine without taking away from Wick's. The best example of his skill is the fact that he doesn't even say "cut" when Ian keeps walking down a long hall or when just men are running toward John, making everything look great.
---
Gaurav Dutta is a B.com graduate from Kolkata, schooling from St. Joseph's College having a passion for writing since childhood. On the other hand, he also excels in the career of accounting and finance. A writer by his own choice, and aims to make a mark in the gaming industry through his coding abilities.