CULT CRITIC
---
Blue Jean
FILM OF THE MONTH
---
CAT INDEX OVERVIEW
---
SCREENPLAY
MAKING
ACTING
Blue Jean | Reviewed By Gaurav Dutta
While Jean (Rosy McEwen) bleaches her gamine crop of hair in the bathroom, host Cilla Black chuckles her way through the smirky innuendo that passes for light entertainment on the television downstairs. With the laughter of the studio audience, Jean smiles, it doesn't seem obvious her to scrutinize the prepared in sexism of the program design. At least not yet.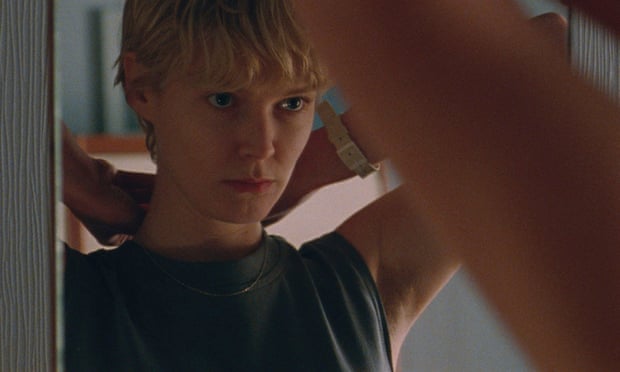 Between two worlds, Jean finds herself in an uncomfortable limbo. She is just becoming a lesbian, is on the outside of a group of louder, prouder dykes, and is just starting out in a relationship with Viv (Kerrie Hayes). She also teaches PE at a secondary school in the north-east of England in the late 1980s, exactly the kind of person the Thatcher regime's recently enacted section 28 law targets, which prohibits local authorities from "promotion of homosexuality." The separation of work and life is essential, but increasingly precarious, for Jean, and McEwen's performance is an intricate miracle of minute details and nervy flickers of alarm. This balance is disrupted when one of Jean's students, Lois (Lucy Halliday), enters Jean's carefully guarded world, much to the dismay of Viv, who is aware of Jean's reluctance to fully embrace her sexual identity.
Blue Jean, the debut film from writer-director Georgia Oakley, is a masterpiece that almost uncannily accurately depicts a specific period in British history. The photography's graininess, the well-chosen soundtrack of energetic electro-socialist pop songs from the 1980s, and Jean's subtly shifting costumes as she transitions between the straight world and the gay world: It is strong and persuading at the same time. Blue Jean is filled with a lot of misery. It is a movie that depicts homosexuality as a struggle. However, in her debut as a feature film director, Georgia Oakley, she handles the situation with grace and never uses melodrama to tell her story.
As Jean, Rosy McEwen is compelling. McEwen gives a nuanced and delicate performance that is also restrained, but she never holds back. Her large eyes effectively convey Jean's internal conflict. Lucy Halliday is just as good, and Lois and she have a great chemistry. Blue Jean's script is one more polish away from being a truly spectacular movie, but it still has that feeling of being unfinished. The film lacks a sense of the bigger picture, despite Oakley's insightful focus on how society and even Jean's fellow teachers so quickly and easily demonize gay people. Even though we are all well aware of the stakes, Oakley doesn't show them enough to make her film feel urgent.
One of the best things about the movie is the production design. Care and attention to detail bring Tyneside, which is dreary, gray, and damp, to life. Instead of being a series of temporary sets that the actors inhabit, it feels like a world that is appropriately lived in. Victor Seguin's grainy cinematography has texture, giving it a unique flavor and sense of the past.
---
 Gaurav Dutta is a B.com graduate from Kolkata, schooling from St. Joseph's College having a passion for writing since childhood. On the   other hand, he also excels in the career of accounting and finance. A writer by his own choice, and aims to make a mark in the gaming   industry through his coding abilities.